Vibrant Sao Paulo is a sprawling megacity rich in culture and stark contrasts, where helicopter taxis buzz over tightly-packed favelas as they ferry executives to their skyscraper offices. Renowned for its world-class cuisine and thriving nightlife, Sao Paulo is Brazil's economic powerhouse. Yet, gridlocked traffic, pollution, and a housing crisis poise daily challenges for its 21 million people. 5 Innovative buildings might pave the way to a solution for these problems.
The megacity earned the nickname of "Blade Runner of the tropics" due to its sense of chaos and contrasts. In a city of multitudes, the architectural traditions that characterize the city are far from homogeneous: Sao Paulo is constantly evolving as futuristic designs take their place alongside colonial-era landmarks and much-loved modernist masterpieces.
Brazilian architect Oscar Niemeyer left his modernist mark on the cosmopolitan city with designs such as his vast, S-shaped, Edificio Copan, the country's biggest apartment block that boasts its own postcode.
Lina Bo Bardi stamped her own Brutalist legacy with the elevated Sao Paulo Museum of Art before converting an old factory into the SESC Pompeia cultural center.
As Brazil struggles to escape economic recession, the latest generation of architects are drawing up plans that nod to Sao Paulo's modernist past but focus on sustainability as they build for the future.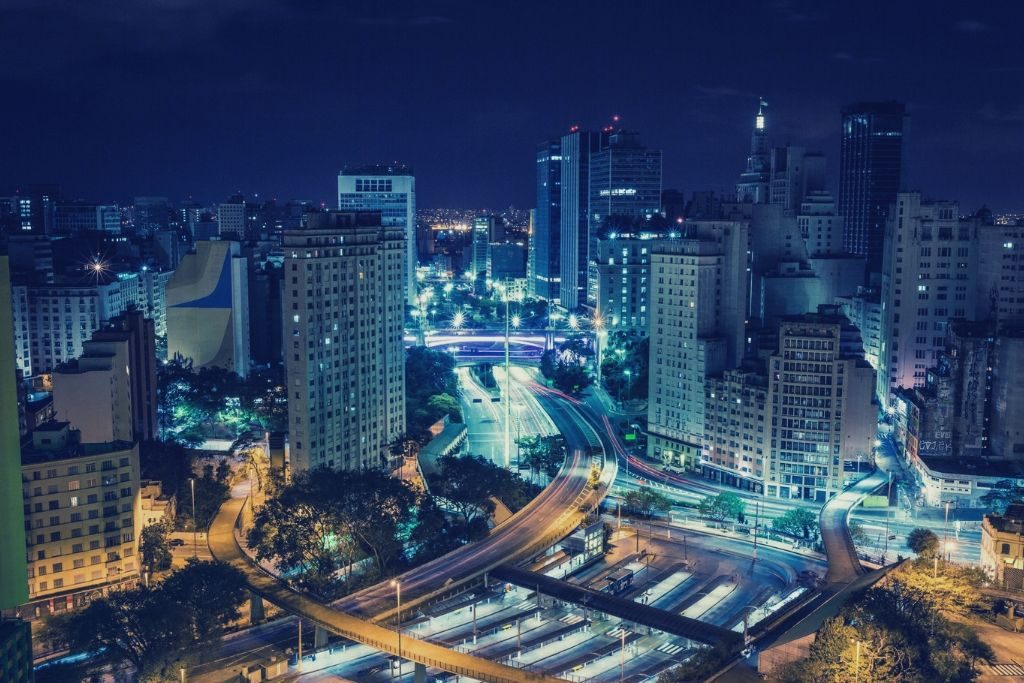 Millions of Paulistanos spend hours a day stuck in traffic so ensuring new buildings are easily accessible by public transport is crucial for the diverse city, where luxury apartments nudge up against shantytowns.
And whether they're upgrading favelas or building helipad-topped office towers, architects are creating designs that are increasingly energy, as well as water efficient, a key requirement after South America's biggest city nearly ran dry in 2015.
While Sao Paulo's challenges are unlikely to abate as its population creeps higher, a strong focus on sustainability will better place Paulistanos to tackle whatever extremes the future might bring.
Here are some five of Sao Paulo's most innovative buildings:
INSTITUTO MOREIRA SALLES

Slotted between its towering neighbors on Avenida Paulista, Sao Paulo's equivalent of New York's Fifth Avenue, the Instituto Moreira Salles (IMS) opened its new exhibition space in a slim tower of glass and steel in 2017.
Inside the building, a huge red box encloses the 1,200-square-meter (13,000 sq. ft) exhibition hall, the color glowing through the frosted glass exterior of the cultural center that also houses a cinema and areas for concerts, seminars and debates.
To create distance between the hectic city thoroughfare and the tranquility of the cultural center's exhibition hall, Andrade Morettin Arquitetosdesigned the seven-story building with its entrance on the fourth floor.
The building's location was picked with accessibility firmly in mind. Hundreds of buses pass by IMS Paulista each day, subway lines run nearby and a cycle path passes below the main entrance.
And sustainability is a core component. IMS Paulista is designed to maximize the natural available light in the plaza, cafe and restaurant areas of the airy building which uses LED lighting, energy-saving elevators and its own rainwater collection system.
JAPAN HOUSE

A jigsaw facade of imported hinoki-wood covers the exterior of Sao Paulo's Japan House, which has quickly established itself on the city's cultural map since opening its doors in 2017.
Visitors step away from the traffic on Avenida Paulista into a courtyard leading to the exhibition galleries, library, shops and Japanese restaurants inside the 2,500 square meter center.
A Japanese government initiative to exhibit the best of the country's culture, the three-story building was designed by Kengo Kuma – the mastermind behind Tokyo's 2020 Olympic stadium – alongside Brazil's FGMF Arquitetos.
Kuma wanted the wooden facade he had crafted in Japan to create the illusion of a forest within the city, while paying homage to traditional Buddhist temple design.
The hollow brickwork used elsewhere in the building is a reference modernist Brazilian style.
The project in Sao Paulo, which is home to the biggest Japanese population outside of Japan, has now been followed by similar cultural centers in London and Los Angeles.
FORMA ITAIM TOWER

With its vibrant pink, mustard and ochre striped facade, Sao Paulo's award-winning Forma Itaim Tower has become a standout among the monotonous high-rise apartment blocks cluttering the city's skyline.
Built in a fast-changing area of Sao Paulo, Spain's b720 Fermin Vazquez Arquitectos have slotted 123 apartments into the 25-story tower, creating compact housing close to the center of the city that planners want to stop sprawling further outwards.
Sustainability is a core factor in the design of the tower, which is orientated north to south to limit the heat impact on its residents.
Each apartment has a deep, shaded terrace, while ventilated ceramic panels cover the east and west sides of the building to maximize airflow.
Opened in 2017, the 85-meter colorful tower was recently awarded the "Best tall building under 100 meters" by the Council on Tall Building and Urban Habitat.
SAO PAULO CORPORATE TOWERS

It's hard to imagine dense Atlantic Forest once covered the area now occupied by Sao Paulo's urban expanse, but one major city development is trying to recreate a fraction of its lush biodiversity.
At the Sao Paulo Corporate Towers, New York's Balmori Associates have landscaped a 19,000-square-meter park using native plants and trees to create a green oasis for people working in the area.
Hundreds of trees have been planted on the site which the designers hope will evolve into a multi-level environment with towering canopies covering a lower layer of plants, reminiscent of the original forest that once thrived in the area.
The park weaves between the 30-story Pelli Clarke Pelli-designed twin towers while a pedestrian walkway links the glass-fronted buildings to the park, restaurants and cafes.
Rainwater collected through the towers' system is used to cool the buildings and irrigate the park, which uses more permeable soils to reduce run-off in the water-stressed city.
GEOMETRIA ITAIM

Stylish urban living reaches new heights with the city's 27-story Geometria Itaim, where each luxury apartment stretches over an entire floor.
Capitalizing on Sao Paulo's balmy climate, sliding glass doors open out onto spacious balconies to create a seamless indoor/outdoor living space with sweeping views across the city.
Designed by Brazil's aflalo/gasperini arquitetos, the building blends sharp corners with soft curves to create a striking addition to the skyline of Sao Paulo's upmarket Itaim neighborhood.
Inside, high-end design dominates with a triple-height foyer designed by Germany's Constantin Wortmann, along with a stunning indoor pool with skyline views, a gym and a ballroom for entertaining.
As demand for luxury residential apartments soars in Sao Paulo, Geometria is set to be a benchmark for architects designing the city's future.